President Nancy Papineau, and Sales and Operations Director Cheryl Cavanagh recently traveled to Wisconsin to attend the 41st Annual Conference of the American Indian Science and Engineering Society (AISES), where they led a group of 200+ volunteers! 
As a Native American owned small business, Dualos promotes a culture of inclusivity, giving back and supporting those in need. To this end, all employees are encouraged to contribute to non-profit organizations and/or events of personal significance throughout the year. 
This three day event attracts AISES members from across the continental United States, as well as Alaska, Hawaii and Canada. This year, 1,650 American Indian, Alaska Native, Native Hawiian, Pacific Islander, First Nation high school and college students made the journey to the highly anticipated event to further their personal and professional development.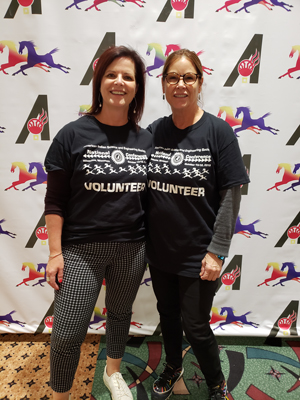 With a mission to increase the representation of American Indians and other indigenous groups in STEM careers – science, technology, engineering and math – the AISES hosts the annual conference in order to give students one-on-one networking opportunities with representatives from universities, national organizations and major corporations within STEM industries. 
"We thoroughly enjoyed our time at the annual conference and left feeling completely energized—even after 12+hour days of volunteering!" stated Nancy. "The AISES hits home with us at Dualos because we strive to grow inclusivity throughout STEM industries in order to elevate our community and expand the quality and innovation in these fields—and this event does just that! It's simply not like other conferences we attend in a professional capacity, where people don't even stay until the end of the event, and are only there to sell. This event truly IS about preparing these students for the realities of careers in STEM fields and we are honored to have the chance to contribute." 
Over 250 exhibitors participated in this year's conference, sharing resources, training and tips on vital topics such as, how to best prepare your resume, what interview skills to practice, and even how to apply for more specific career pathways, like working at a government agency. 
Universities from across the country also exhibited to promote their AISES chapter, introduce STEM specific areas of study, and even how to pay for post-graduate education. 
"Success for attendees of this conference can change the trajectory of their life," stated Cheryl. "We saw many students taking full advantage of networking opportunities, leaving more prepared for the professional world, more knowledgeable of the steps to take to get the job they want, and some even with job prospects and/or follow up interviews!" 
The 2019 Annual Conference was a major success and we can't wait for the 2020 Annual Conference which will be held in Spokane, WA!