Abaco Extends Family of Avionics Devices for Test and Simulation, Flightline, and Development Featuring Thunderbolt™ 3 Interface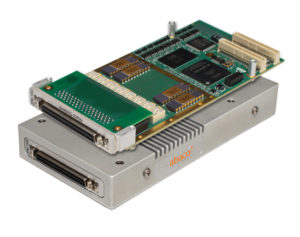 Abaco's Thunderbolt 3 interface to Avionics I/O is arguably the best future-proof peripheral family of products in 30 years. While USB and Serial before that have marginally met functional needs, they both suffer from latency and bandwidth challenges. Abaco's Thunderbolt 3 brings true backplane speed, latency and bandwidth to Avionics peripheral devices while maintaining a customer's investment against the more frequent power hungry processor change-out requirements.
Thunderbolt™ 3 Interface:
Addresses demise of ExpressCard, PCMCIA card
Provides superior solution to USB
Leverages high speed 40Gbps interface for minimum latency, maximum channel density
Allows minimum cost/disruption expansion of existing test/lab systems
Delivers long term continuity for customers
Contact Us
---
HUNTSVILLE, Ala.— August 8, 2019 Abaco Systems today further extended its range of portable avionics devices that feature the Intel® Thunderbolt™ 3 interface with the addition of an ARINC664-compatible RCNIC-A2PA-TB and multiprotocol RAR15XF-TB that supports up to four channels of MIL-STD-1553 and 18 channels of ARINC 429 on a single device.  These new devices complement Abaco's previously announced QPM-1553-TB and RCEI-830A-TB.
The latest platforms include:
The RCNIC-A2PA-TB is the first portable ARINC 664 device to come to market with Thunderbolt 3 connectivity. It is a dual port ARINC 664 interface for monitoring, generating or analyzing full-bandwidth AFDX/ARINC 664 Part 7 protocol traffic. Abaco's exclusive pipeline architecture maximizes packet throughput using parallel controllers and efficient DMA transfers, thereby avoiding the bottlenecks of CPU-based interface
The RAR15XF-TB is the highest density portable MIL-STD-1553 and ARINC 429 available. It delivers up to four channels of 1553 and 18 channels of ARINC 429 for the highest density in an extremely portable device. Its on-board firmware, large data buffers, and a high-level API are integrated to provide total flexibility in monitoring and generating ARINC bus traffic. Simultaneous scheduled and burst mode (FIFO) messaging is supported on all ARINC 429 transmit channels. Each ARINC 429 receive channel provides simultaneous dedicated and buffered mode storage, along with label/SDI filtering.